Lofoten Islands wedding and elopement are a truly special way to get married. Over the years, the Lofoten Islands have grown in popularity and it can be difficult to know where to go to have your intimate ceremony there. That's why I've put this guide so you feel ready to plan your Lofoten Islands wedding the right way.
Below you'll learn more about where the Lofoten Islands are located and what makes them so special, plus all the details on how to best plan your wedding and elopement here.
Lofoten Islands
Where are the Lofoten Islands in Norway?
The Lofoten archipelago is located north of the Arctic Circle in the Nordland county, off the coast of Bodø in Norway. The Lofoten Islands stretch for 150km, one after the other, and consist of 7 islands connected by bridges.
The archipelago is divided among the municipalities of Vågan, Vestvågøy, Flakstad, Moskenes, Værøy, and Røst. The main towns are Leknes and Svolvær. The population of the archipelago is around 25,000 inhabitants, mainly making a living from fishing and, today, tourism.
How to fly to the Lofoten Islands?
There's a high probability that you'll arrive by plane to the Lofoten Islands. There are two airports, and the easiest way is to fly with Widerøe Airlines to Svolvær or Leknes. If you're looking for alternatives, you can also fly to Bodø or Evenes, but opting for this may complicate your travels as you'll need to take an additional bus or ferry.
There are several daily flights to Svolvær in the Lofoten Islands or to Evenes north of the Lofoten Islands.
How travel around the Lofoten Islands?
If you already have a car and want to reach the Lofoten Islands by this means of transport, the islands are connected to the mainland by a bridge, so you won't even need to take a boat.
If you plan to enjoy the Lofoten Islands before, during, and after your wedding, it will be much easier for you to have a car. Public transportation is very limited, if not nonexistent, in certain areas. There are buses that connect Narvik and Å, but they only stop in major cities, and you might quickly feel restricted in your movements.
You might be wondering where to find a rental car, you can follow this link. Keep in mind that Svolvær is the largest city in the Lofoten Islands, so it will offer a more interesting selection of rental cars.
Why elope in the Lofoten Islands?
The Lofoten Islands are renowned for the Northern Lights, the midnight sun, small villages, and traditional fisherman's cabins (rorbu). The charming fishing villages (fiskevær) of Reine, Nusfjord, Ballstad, Stamsund, and Kabelvåg add a special allure to the Lofoten Islands.
These islands are also famous for their white sandy beaches surrounded by rugged mountains and a sea with azure hues. These majestic mountains can rise up to 1 100 meters from the sea.
The Lofoten Islands boast breathtaking landscapes that are sure to captivate you, making this destination one of the most prestigious choices for a beautiful elopement adventure.
When to elope in Lofoten Islands ? Choosing the perfect time
Of course, it's quite challenging to answer this question because it will depend on your preferences and the adventure you want to experience in the Lofoten Islands. The good news is that if the weather forecast looks unfavorable, it can change very quickly and become suddenly favorable. You will also find the best guides to help you see the Northern Lights if that's one of your dreams. But don't worry, for more information on weather and the Northern Lights, I detail everything here.
How is the weather in the Lofoten Islands?
The months of October and November are known to be very rainy in the Lofoten Islands, although the autumn colors beautifully adorn the landscape. From December to the end of January, the days are very short, just a few hours, even though the light is beautiful. It's also a very favorable period to catch a glimpse of the Northern Lights. The landscapes are still covered in snow in April and May, which may limit outdoor activities. However, this period seems suitable to enjoy the islands without the influx of tourists. Although June, July, and August seem to be the ideal time to visit the Lofoten Islands, it's also becoming the worst as the islands become very popular. It's also good to know that during the summer, you can enjoy the long 24-hour days under the midnight sun.
What about the Lofoten Islands during the winter?
As surprising as it may seem, the average temperature in winter in the Lofoten Islands is 0°C. However, the islands are often subject to strong winds, which makes it feel much colder than we might think. If you want to maximize your chances of seeing the Lofoten Islands covered in snow, the ideal period is from mid-January to March. If you're not used to snow, I recommend renting a well-equipped car with at least winter tires and checking the weather before each of your journeys or activities. Although you can ski and hike with snowshoes, you need to remain vigilant regarding the forecast. You can follow the forecast on this local weather app.
When is it possible to see the Northern lights in Lofoten islands?
In the Lofoten Islands, the Northern Lights can be seen from September to March, why? Simply because it's the darkest time of the year, which increases your chances of seeing the Northern Lights. Although the Lofoten Islands are the ideal place to catch a glimpse of the Northern Lights, they receive a lot of precipitation, meaning the chances of having a completely clear night sky are not very high.
Best place to elope in the Lofoten Islands
Kvalvika Beach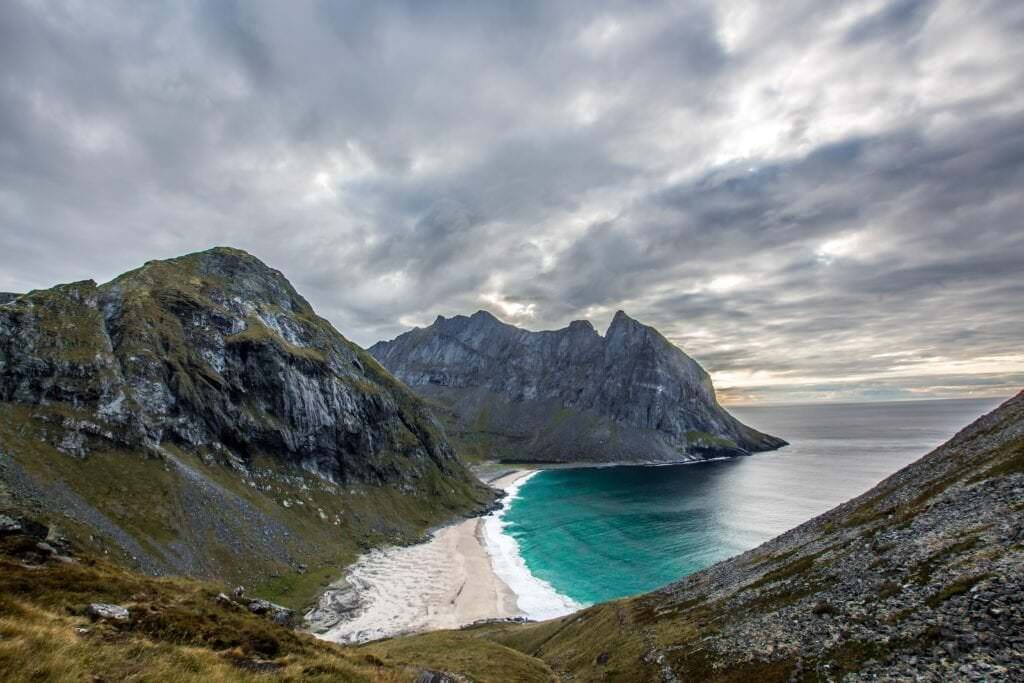 This is where you will discover the stunning wild landscapes that the Lofoten Islands have to offer, with steep cliffs, emerald green sea, and an impressive white sandy beach. Kvalvika is located in the Lofotenodden National Park, on the island of Moskenesøy, and belongs to the municipality of Flakstad. It will take about 2 hours (one way) to reach the summit, which is 543 meters above sea level.
Reine
The village of Reine is located on the island of Moskenesøy. It is famous for its red and white fisherman's cabins. The village has gained a reputation as one of the most beautiful places in the world. Most of the best hikes in the Lofoten Islands are located near Reine.
Hamnøy
This small fishing village has also made a name for itself in recent years thanks to its sharp mountains, idyllic village, and dense and refined harbor environment. Hamnøy is located in the municipality of Moskenes in Nordland. The place is one of the most photographed with fisherman's cabins and the Festhæltinden mountain in the background rising sharply.
Reinebringen
The view from the top of Reinebringen is known to be one of the most spectacular. From up there, you can enjoy a superb view of the picturesque village of Reine, the fjords, and the mountains. The hike is very popular and takes 1 to 1.5 hours to an altitude of 448 meters above sea level.
Hire a guide to get off the beaten track and find the rare gem
The locations mentioned above are beautiful, but they can fall victim to their own popularity and become very crowded during the high season. That's why I highly recommend considering hiring a guide to take you to isolated and less touristy spots. In Norway, it's not uncommon to discover hidden gems just a few meters away from heavily frequented areas. However, it's rarer to succeed in finding them alone, as the paths may be poorly marked or not marked at all. Being accompanied by a local allows you to explore unique places known only to locals, and it can really be worth it. In this process, I can accompany you and recommend local guides who have a perfect knowledge of the area.
Where to stay during your wedding in Lofoten ?

I would not recommend making a reservation through the Airbnb platform as it negatively impacts the local economy and rental market in the Lofoten Islands. Indeed, cabins and houses are often purchased for commercial purposes, reducing the available housing for residents in the Lofoten Islands. For more information, you can find the article here. To support the local economy, I would recommend prioritizing local platforms such as finn.no or local hotels. If you are considering pre-wedding preparation photos for your dream elopement, I would suggest looking into accommodations that offer spacious interiors and beautiful natural light. In my research, I have come across beautiful places like:
The advantage of these places is that you have the accommodation to yourselves, making it easier to plan for pre-wedding photos on the Lofoten Islands. However, it's often required to make reservations for multiple days, and these accommodations are limited. Alternatives such as hotels may need to be considered. These details will be discussed during the planning of your elopement.
Dining options for your Lofoten Islands wedding and elopement
The Lofoten Islands offer an exceptional variety of culinary experiences. While cod (skrei) is the fish that has made the reputation of the Lofoten Islands, the locals have developed culinary experiences that go well beyond fish, incorporating local products such as lamb, sheep, cheese, etc. The identity of the Lofoten Islands has indeed been built on this culinary fame, so it would be a shame to miss out on and not enjoy one of these experiences during your wedding dinner in Lofoten. Among a selection, you can find:
The magnificent setting will add a special dimension to your wedding meal during your culinary experience in the Lofoten Islands.
Find your dream vendors in Lofoten Islands
The simplest way is to ask assistance from your photographer or wedding planner if you choose to have one. Wedding professionals are accustomed to making this type of search, and they may already have a local network, providing a significant advantage to ensure availability promptly.
It's also possible to consider doing your own hair and makeup. This can create a relaxed moment without fuss and without artifice.
How to legally elope in the Lofoten Islands?
Wedding ceremonies mostly take place in town halls and on specific days. Depending on the location of your elopement ceremony, you will be subject to the rules of the municipality. While exceptions can be made, planning an outdoor wedding in the Lofoten Islands requires careful consideration well in advance. I recommend checking this article to learn more about the process of an official marriage in Norway.
Once your paperwork is completed, you'll need to contact the municipality where your ceremony will take place to reserve a celebrant for your elopement day. It's alos important to note that you will need two witnesses for your official wedding ceremony. Since your photographer will be present with you on that day, they can likely serve as one witness. For the second witness, you can enlist your hairstylist or makeup artist. If you want to travel with close friends and family, then you'll have an even simpler solution.
If you prefer more flexibility, you can also get legally married in your home country and have a symbolic ceremony in the Lofoten Islands. This way, you'll have more flexibility regarding the date and time for your ceremony, and you won't need witnesses.
What to wear to elope in Lofoten Islands?
As you may have understood, choosing an intimate wedding in the Lofoten Islands means opting for an adventure in a destination with a somewhat rugged climate. For the wedding dress, choose a gown that allows you to move without being cumbersome, lightweight, and flowing. For the cooler season, you can also add a lovely shawl, a wool sweater, or a warm scarf. For the groom's attire, make sure it's comfortable and allows for easy movement. Consider adding a jacket for extra warmth as needed. Regarding footwear, hiking boots or sturdy sneakers are ideal, especially if you plan to walk a lot. Paths in Norway can quickly become damp so with good shoes, you'll avoid slipping and having wet feet.
In general, I strongly encourage packing warm spare clothes in your backpack, as well as gloves and hats in case the wind picks up, and you need to quickly warm up.
What does it cost to have a Lofoten Islands wedding and elopement?
Norway is one of the most expensive countries globally, and the Lofoten Islands are one of the most expensive regions in Norway. However, it's possible to reduce your budget if you're willing to make some compromises or plan your elopement well in advance. There is a high demand during the summer season, and as a result, many accommodation providers and car rental agencies increase their prices. You could cut your bill in half or even by three by considering coming during the shoulder season. For an idea of the cost of an elopement in Norway, you can check out this article.
The impact of Lofoten Islands tourism on your wedding and elopement
A few years ago, the Lofoten Islands were still relatively unknown, and few people could pinpoint their location in Norway. Today, the Lofoten Islands have become very popular, and this archipelago is highly coveted by tourists. If you plan your elopement on the Lofoten Islands, it means you'll need to book your accommodation well in advance, especially if you visit during the summer, as it's not uncommon for the islands to be fully booked.
Conclusion: Steps to getting married at Lofoten Islands
1. Pick a date
The Lofoten Islands are a super touristic zone, so plan at least 1 year in advance to ensure availability, especially if you want to come during the high season. Once you have your date, you can also contact your photographer to help you plan your day.
2. Pick a ceremony location
This is one of the essential steps to later book your tickets, accommodation, providers, and your ceremony officiant if you want one. I recommend having a specialized guide in the area to take you off the beaten path and experience a very intimate wedding. The Lofoten Islands are victims of their success and experience a high influx during the peak seasons.
3. Secure Your Permits & Reservations
Once you have your date and location, you can contact the municipality if you want to hold an official ceremony or an officiant for a symbolic ceremony. You don't need a permit to get married outside in Norway. In Norway, there is a law that gives the right to walk along the coast, through forests, and mountains, provided you respect nature and leave no waste behind. To learn more, you can check this link. Regarding reservations, the earlier you plan, the more access you'll have to the most beautiful places to stay and eat on the archipelago. Your elopement photographer can accompany you during this step.
4. Finally: Have your dream Lofoten islands wedding and elopement
Once all these elements are sorted on your end, you'll be ready to go! All that's left is to book your plane tickets and pack your bags.
I have so much love for planning a dream elopement, I am always ready to share more information and answer any questions about making your wedding day ideas a reality.
Ready to plan your Lofoten Islands wedding and elopement? I can't wait to help you plan your DREAM celebration!