A wedding, in general, is organized only once in the life of a couple. When you decide to get started, it's not easy to know the price of the different providers and external costs. When you also plan to do it abroad, the exercise can be even more complex. It's also quite possible that you will come to visit this country for the first time. So it can be really challenging to expect what will be the cost of an elopement in Norway.
In this article, I will tell you about the average price that you should consider for your small adventure wedding day in Norway. This average price will be calculated for a couple with 2 nights and 8 hours of photographer coverage.
If you need a money converter, click here or just know that the current conversion is 1,000 NOK = 91,87 USD (December 2023).
The budget related to your adventure wedding in Norway
If you decide to have an adventure wedding in Norway, it may be interesting to know the expenses associated with your stay. Indeed, it is very likely that you will decide to stay a little longer than just a few days. You will definitely want to take the opportunity to visit the country, and you will be right, Norway is so beautiful!
Of course, the budget you will put into your wedding will depend on several parameters: your income, the choice of country and your wedding's style. But from a practical point of view (essential need), here are the essential costs of your stay:
Food and drinks
A meal in a budget restaurant will be between 120 and 350 NOK. For mid-range restaurants (three courses), it will take between 650 and 1500 NOK. Alcohol can also be quite expensive, a bottle of beer will be between 30 and 45 NOK. Be aware that it is possible to travel with alcohol. If you want to know what is allowed to carry during your stay in Norway, take a look at the regulations, right here.
Accommodation
You will certainly like to offer yourself a nice place in the middle of nature to celebrate your experience in its entirety. Prices vary greatly depending on the season, location, level of comfort and facilities available. Some establishments will want you to book at least 2 nights (or more).
"Hytte" are very popular wooden huts in Norway. Cabin stays are an important part of the Norwegian way of life, that's why on average 1 in 2 Norwegians owns one. These are comfortable chalets surrounded by nature that can, most of the time, accommodate a small group of people. Choosing this type of accommodation means choosing to live the experience as close as possible to Norwegian culture. Prices vary greatly depending on the service (modern chalet VS very old and rustic). A chalet like the photo below will cost between 2000 - 3000 NOK so on average 2500 NOK per night.
You can also choose to stay in a more atypical place where Norwegian nature blends perfectly with the architecture. Regarding these renowned places, it is necessary to consider a reservation well in advance (6 months or even more in high season). The price for 2 nights is around 7 000 NOK. To get an idea of these incredible places to stay, you can check this link of this treehouse or the one of the cabin with a view of the fjord. Choosing to live the Norwegian experience means trying these wonderful places to stay. They offer a spectacular view of the heart of nature.
A night in a hotel will be cheaper for you, but most of the time you will not be able to cook. Be aware, however, that on average, you can count 1850 NOK per night for a room in a hotel.
It's also possible to find cabins in campsites, you can find them around 450 NOK per night.
The place of the ceremony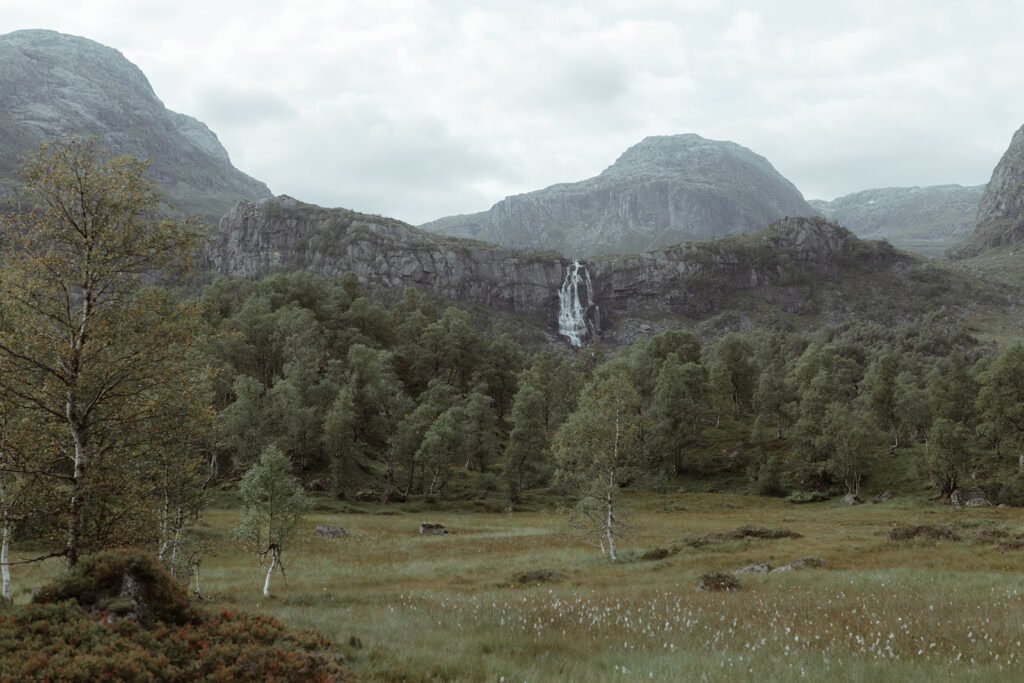 Style of the wedding
If you prefer to enjoy nature and only plan a hike, it won't cost you anything. As mentioned just before, access to nature is a right and it's free. On the other hand, if you want to carry out an activity such as northern lights experiences, dog sledding or whale safari, it could cost you up to 25 000 NOK (even more). To be honest, nature is breathtaking and enjoy the outdoors will offer you an amazing experience, not to mention reducing the cost of your wedding in Norway.
The choice of the providers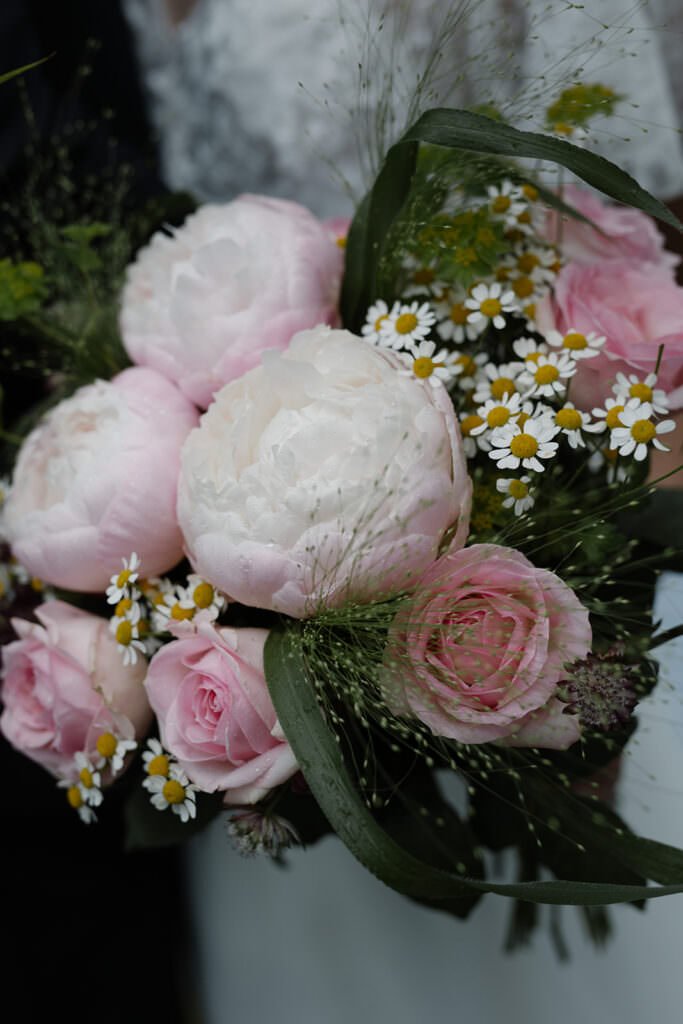 Florist: The price can vary from 1500 up to 3500 NOK depending on the size and type of flower. It's necessary to plan on average 2500 NOK.
Make-up artist-hairdresser: The price hair and make-up wedding (both) will normally charges between 5 700 and 12 000 NOK so on average 17 700 NOK (both).
Photographer: This is one of the most important service providers in your adventure. In addition to accompanying you on your intimate adventure, you photographer will be there to help you plan your day. It's, therefore, not just a question of obtaining photos but also of having a fresh feeling with her. The budget also varies greatly depending on the reputation of the photographer and her expertise.
Some photographers will offer you for a day while others can follow you for several days. On average, you can consider between 50 000 and 80 000 NOK, so an average of 65 000 NOK (from 8 hours coverage).
Travel
From Europe and out of season, it's possible to find plane tickets at around 3 000 NOK per person one way. In high season (mid June-July-mid August), it will be necessary to add the double (it can cost even more if you book at the last minute). So on average, you can travel for 6 500 NOK per person from Europe to Norway a round trip.
You can rent a car in most towns in Norway. Car rental in low season is 2 900 NOK (average 4 400 NOK in high season). The liter of gasoline also varies according to the acute crisis, that varies between 20 and 25 NOK.
Finally, how much does an adventure wedding for two people cost in Norway?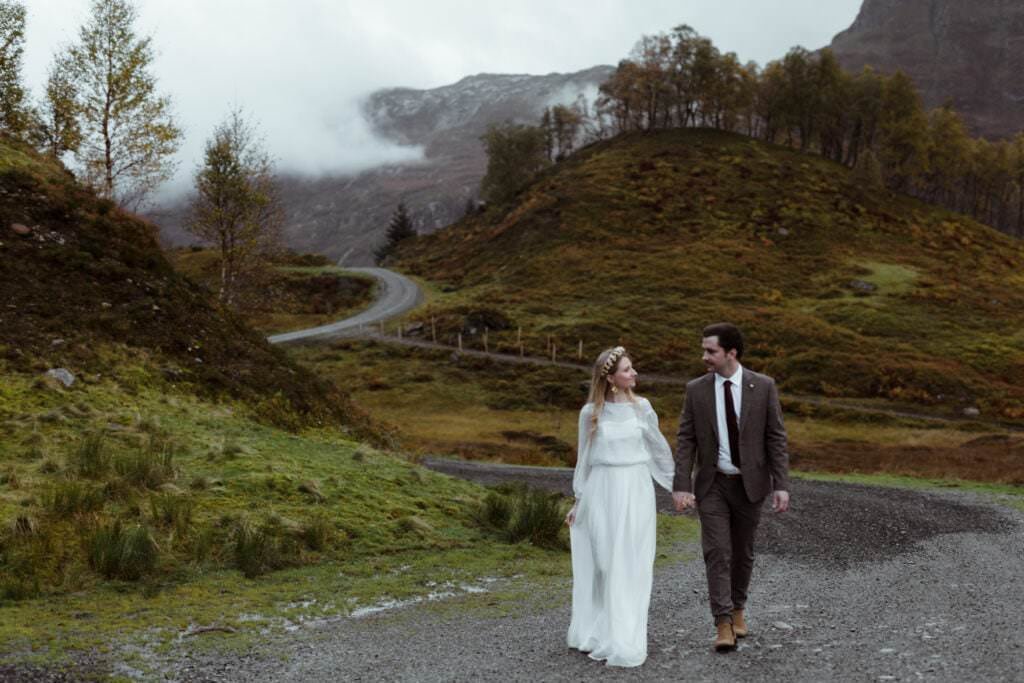 If I go back to the listing through this article, the cost of an adventure wedding for 2 people, i.e. 2 nights and 8 hours of photo reportage is:
• Meals and drinks (2 breakfasts, 3 economy meals, 1 gourmet meal, 1 bottle of champagne and 2 bottles of wine): 7 500 NOK
• Accommodation: 7 000 NOK
• Florist: 3 500 NOK
• Make-up & artist-hairdresser: 17 700 NOK
• Photographer: 65 000 NOK
• Plane + car rental (3 days) + petrol: 30 900 NOK
• Road tax (ferry-toll): 1 200 NOK
Finally the price for an adventure wedding in Norway is 132 800 NOK ~$12 300 USD (2 people + 2 nuits + 8h photographer coverage). However, if you decide to get married out of season and you like simplicity, it can be much lower. To find out what to expect in terms of weather and landscape according to the seasons, you can view this article.
It's all about choice and what matters most to you!
Looking for more information? Ready my Guide to Eloping in Norway for more helpful advice.
Your Norway Elopement Photographer
As a local Norway elopement photographer, I accompany adventurous couples who want a deep connection with nature on their wedding day. It's my passion to incorporate honest and intentional storytelling through every photo, so you can relive your magical day each time you look at your wedding album.
Finding a crowd-free spot for your ceremony is sometimes quite difficult. This is why getting help from a local expert, such as a local photographer in Norway, is always a good option. Choosing a local photographer means you have a wedding professional on your team who is familiar with the area and the right paths to take. The mountains and trails in Norway can be difficult to navigate if you're not familiar with the area. Whether you want a view at the top of a mountain or at the foot of a waterfall, I will be there.
Let's Plan Your Norway Adventure Wedding
Are you ready to say your vows in one of the most beautiful countries in the world? Send me a message to start planning your wedding in the heart of nature. I can't wait to capture every moment of your wedding in Norway.