As a photographer, you need to bring the best experience to a couple who wants to elope in Norway. It takes time to find lovely places, providers, charming places to stay, etc. So it's impossible to improvise elopement photographer overnight.
If you are still wondering what an photographer specialized in elopement can offer you, check out the list below:
She recommends you places for your ceremony, stay, etc.
She is be able to put you in touch with service providers.
She guides you in planning your day
She helps and guides you in planning a day that suits you, as close as possible to your values
She will also be your confidant, sometimes even the witness of your union
So, now you can ask yourself how to find the rare pearl when it comes to finding your elopement photographer in Norway? There are certain parameters that can help you make your choice. Discover in this article the 4 criteria to choose your elopement photographer.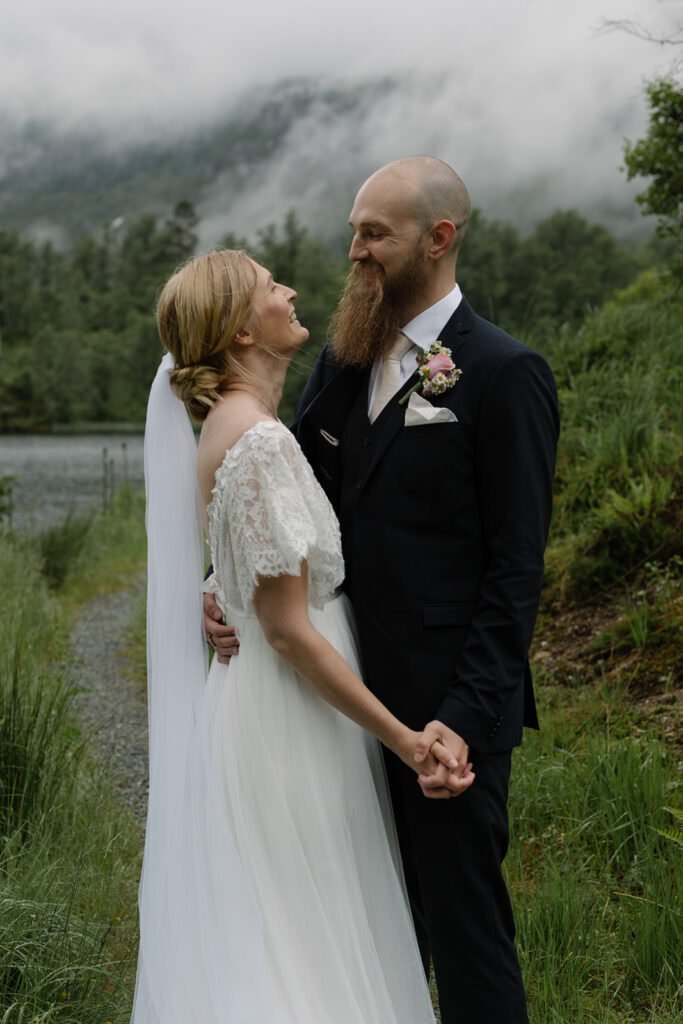 1. Loving the style of the photographer's images
Even if it should not be the only criterion of choice, liking the photographic style of your photographer is essential. Indeed, the photographer's style is one of the most important things in their work. It's their signature, trademark and vision of the world with their unique and personal sensibility. The style of the photographer is defined by the choice of a large number of parameters such as contrast, luminosity, sensitivity, framing... which will make the photographer's images recognizable among many others.
To define the style of photography you like, it's interesting to know what inspires you. It can be a set of factors like color palette, emotions, atmosphere... The more you know what style of image you like, the more you will be satisfied with the images you will get from your photographer.
Depending on the type of image you like, bright, dark, editorial, etc. it will be easier for you to start your research on google, pinterest or even instagram.
2. Discover the value and approach of your photographer
Behind every camera hides a human with a personality of its own. If you are sensitive and calm, I bet you would like to have a photographer who carries your same personality traits rather than an extravagant one who talks too loudly (and vice versa).
It's quite normal not to have the same affinities with everyone. Knowing that your photographer largely shares your values and your personality will help you have a better experience. The story of her life can also inspire you and make you feel close to her vision of life.
To find out if photographers are aligned with your values, you can look at her social networks, the «about me» section of the website as well as their blog articles. These are gold mines to discover !
Knowing your photographer's approach can also help you decide. The photographer's intentions are her vision of the world, her way of seeing things and of obtaining her images. Her motivation can be diverse : bringing sweetness, kindness, joy, emotions, unforgettable memories…
Intention and motivation are what will drive to her difference, it'll set her apart from another photographer. Knowing the intentions and motivations of the photographer is always a good thing to avoid unpleasant surprises like :
•  Not feeling comfortable in a pose 
•  Obtain extravagant images when you are a calm and reserved couple, etc.
3. Have trust in your photographer
It's so important to have confidence in your photographer. You entrusted her with a part of your privacy and your identity. Finding a photographer who will reassure you, listen to you, and accompany you in this experience as well as possible is just essential.
Doing a photoshoot is a human adventure, a sharing of points of view and values. So it's important that you make yourself heard to in this adventure.
Moreover, you're going to spend one of the most intimate and personal days with your lover. Your photographer may be the only witness to your love that day. It's therefore important that you feel confident as if she was a friend of you both.
4. Invest to live an experience through photography
I am well aware that the price is going to be a deciding factor in choosing your elopement photographer in Norway. However, it's important to understand that the price of an elopement photographer is not just reduced to a number of hours and photos. Your photographer will accompany you throughout the process. In addition to already living in the country, it will be of great help to you in the organization of your day.
With the wonderful photos you'll get, you will buy an experience, a unique adventure that no one else has yet experienced. You also bought this rarity which will make your story as sublime as it's personal.
What you need to decide before hire your elopement photographer ?
You already found your elopement photographer in Norway so you would like to know the next step ? Before asking more informations it's great to already have an idea about the general timeframe (when to you want to elope? In 3 months or 1 year?) and also a vague vision of your location (don't forget that your photographer can help you finding the best place for you too).
Want to check our more elopement resources like this one ? You can see how to plan your elopement in Norway in 2023 just here.