Surround yourself with the untamed beauty of nature during your Norway elopement. Home to majestic mountains, breathtaking fjords and serene lakeshores, Norway offers a stunning backdrop for your wedding. Imagine standing together on a secluded shore or overlooking wondrous vistas as you commit your lives to one another.
Some spots in Norway attract many tourists throughout the year, which isn't ideal when you want to share a private moment with your partner. As a local Norway elopement photographer, I can serve as your guide to hiking trails and picturesque waterfalls known only to the locals. If you want to celebrate your love during an intimate ceremony in the heart of nature, keep reading to find out everything you need to know about eloping in Norway.
3 Reasons You Should Consider Eloping in Norway
Eloping in Norway is an intimate experience that complements your love story. From the awe-inspiring landscape to the feeling of becoming one with nature, there are several reasons to consider a Norway elopement.
Host Your Ceremony Among Nature
An outdoor Norway elopement ceremony can take place just about anywhere including the mountains overlooking the fjords, the base of a waterfall or a lakeside shore. According to the law of allemannsretten, which means "everyman's right," people are free to roam on uncultivated land throughout the country. Here nature belongs to everyone. Of course, it's also important to respect each place you visit and leave no trace.
Just the Two of You
When it's just the two of you, you not only have the opportunity to appreciate each other but also the scenery that surrounds you. You may feel like the only two people in the world as you stand together among the natural beauty of Norway. Norway is a majestic country and there are many sublime places to say your vows. As your photographer, I will help you find locations away from tourists and crowds. Some spots are well-kept secrets only known by the locals.
Calm Your Soul
Recharge your batteries and connect with your partner in the middle of nature. Norway is a calming and soothing place to unwind and focus on what's important. Further your Norwegian adventure by sleeping in a cozy Scandinavian cabin and becoming perfectly in harmony with the landscape.
Best Places to Elope in Norway - Norway Elopement Locations
There is an abundance of breathtaking backdrop options for a Norway elopement. You'll find jaw-dropping waterfalls, snow-capped mountains and pristine waters. Here are just a few gorgeous locations for your unique ceremony among the beauty of nature.
Lofoten Islands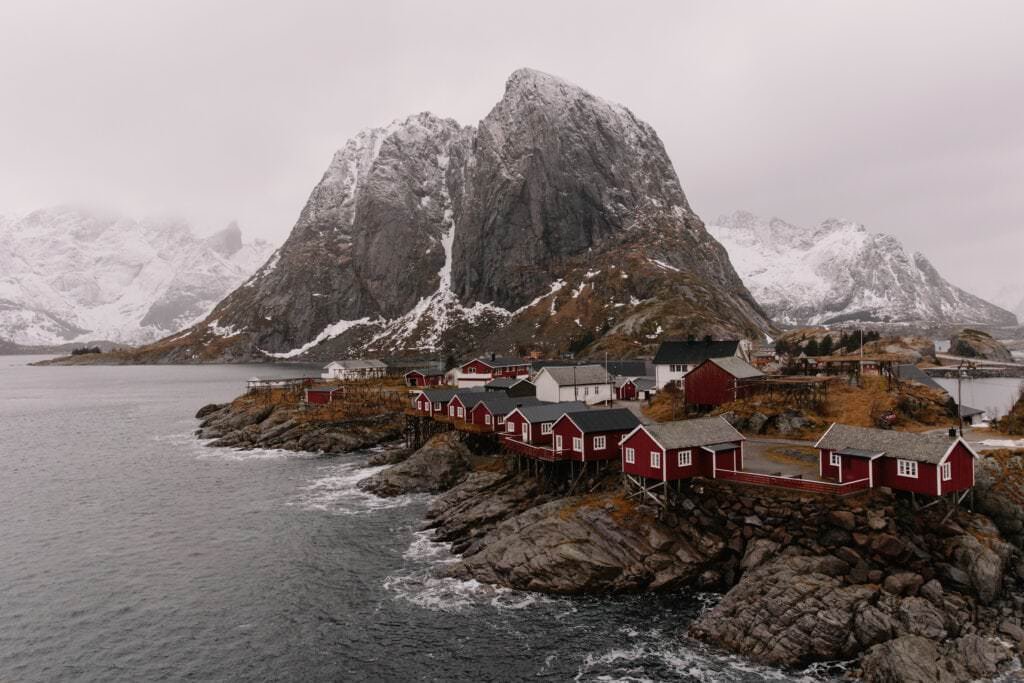 The Lofoten islands boast an awe-inspiring diversity of landscapes with dramatic fjords and rugged mountains that seem to touch the heavens. But what truly sets this place apart are the iconic fisherman's huts, or "rorbuer", that line the shores. These charming, red-painted cabins stand as a testament to the region's rich maritime heritage, offering a unique blend of rustic charm and modern comfort.
Want to elope in this place? Check out my full guide to elope in Lofoten Islands here.
Åbødalen
You won't find Åbødalen on many travel blogs or among popular tourist destinations, which makes it perfect for a secluded ceremony away from bustling crowds. The landscape is home to a stunning waterfall rarely visited by tourists. Although you may see a few extra people visiting the area on weekends, most of the people you'll come across are locals. Here you'll also find the jettegrytene, or potholes, of Åbødalen. The locals love this location for a swim in the lake and a picnic surrounded by towering mountain peaks.
Breiborg
This is another secluded location that allows privacy for your intimate ceremony. Whether you're visiting in the summer or early fall, the hiking trails here provide a stunning view of the countryside. The varied terrain offers easy hikes, to challenging treks for the most adventurous couples. It's important to note that road 520 from Røldal to Breiborg is only accessible from June to October. This road is deeply covered in snow during the winter months. You can get to Breiborg more easily from Sauda. However, it will be necessary to inquire about the state of the road beforehand. Breiborg is also lovely to visit early in the season because of the impressive walls of snow surrounding the road.
Lysefjord
This fjord located in the Ryfylke area stretches 42 kilometers (26 miles). The name means "light fjord," which comes from the light shade of granite that borders the body of water. Lysefjord has a bit more of a tourist draw thanks to the popular Pulpit Rock, also known as Preikestolen, which overlooks the fjord. Ask your photographer to help you find a more secluded location along Lysefjord's hiking trail with a stunning view of the mountains and fjord. The trail is open all year, and a guide is highly recommended during the winter months when snow covers the path.
Aurland
Aurland is known for its picturesque and idyllic charm. Surrounded by rugged mountain sides, it is possible to reach views of the majestic Aurlandsfjord providing a spectacular backdrop. Aurland, with its natural splendor and intimate charm, is a truly nice destination for a wedding that celebrates the profound union of two hearts.
Tengesdal
Located on halfway between Preikestolen and Trolltunga, along the national tourist route Ryfylke, there is this stunning hidden gem. It has beautiful landscapes including vibrant pastures, raging waterfalls on the road, and mountains that extend from here to the fjord. This place is magnificent with its breathtaking view of the fjord and the site is completely devoid of tourists. Here you will be lost in authentic Norway and you will be able to value the landscape all to yourself.
Trolltunga
Perched on the edge of a towering cliff, Trolltunga (which translates to "Troll's Tongue") offers breathtaking views of the surrounding Hardangervidda National Park. The cliff juts out over Lake Ringedalsvatnet, providing an unparalleled vantage point to take in the rugged beauty of the Norwegian wilderness. The terrain is characterized by vast plateaus, dramatic fjords, and snow-capped peaks that stretch as far as the eye can see.
Want to elope in this place? Check out my full guide to elope in Trolltunga.
Etne-Sauda
This sector in the region of Rogaland offers a quantity of hiking with views of mountains, waterfalls and fjords. It is more isolated and therefore less frequented by tourists. Host your Norway wedding among nature surrounded by picturesque mountainsides, local wildlife and calm waters. These places require a good sporting level and a little more time for exploration
When to Elope in Norway?
The season you choose to elope in Norway will be very important. There is a huge difference in terms of colors, sunshine and temperatures between the seasons. Finding out what kind of weather you may experience during your stay can be also helpful. Seasons vary dramatically in Norway, so the time of year you elope will shape your experience. Thinking about the type of landscape you are looking for will help you know which season is right for your wedding day.
You must also be aware that having a good rain forecast can be quite complex. The Norwegian saying goes "there is no bad weather, only bad clothes." Adopting the Norwegian mindset will only make your experience more wonderful!!
Let's go for an overview of the seasons in Norway:
Winter elopements
In December, January and February the days of sunshine in Norway are quite short. The days lengthen after mid-January. During the winter solstice, it takes 3 hours of sunshine in the north against 5 hours for the south. In the north, the sun touches the horizon but never fully rises. The colors in the sky are beautiful. During this period, some roads are not plowed. Other roads may also be temporarily closed if there has been heavy snowfall. It's important to prepare your itinerary well to not get stuck or have to make a considerable detour. The season is perfect for skiing and the Northern Lights. The landscapes are also magnificent and, if you dream of a landscape covered with snow, you will be delighted. Activities such as skiing, snowshoeing and dog sledding are also open.
Spring elopement in Norway
In March, the snow is still present over a large part of the country. If you want all the snow to disappear, you'll have to wait until April or May. It will always be possible to see it on top of the mountains. If you are planning mountain hikes, the spring period can be critical with avalanches. So you will have to find out before you leave. The melting snow allows you to observe beautiful waterfalls. The midnight sun begins in the north. Some roads can still be closed.
May can be a nice month to discover a little more about Norwegian culture. May 17th is Norway's National Day, a day of celebration with family and friends. During this day, all Norwegians parade through the streets in traditional Norwegian dress. There are also many public holidays. So if you want to enjoy nature, this shouldn't impact your adventure too much. Keep an eye out for public holidays in Norway during this time. You could run into unpleasant surprises like closed supermarkets.
To check public holidays in Norway, you can click here.
Summer's season to elope in Norway
The months of June, July and August are very popular. The days are longer with the midnight sun and the temperatures are milder. The weather can be very variable depending on the year with a present sun or a lot of rain. These weather nuances will bring a lot of character to the images and you should not be afraid about that. Mid-June and July are the most touristic periods. Popular places can get crowded quickly. Mid-August you will have fewer tourists and a good time to avoid the crowds. The midnight sun is ending and the risk of rain is higher.
Autumn elopement in Norway
From September to November, the days will gradually get shorter. In mid-November, the sun will set around 4 p.m. in southern Norway (expect an earlier sunset in the north). The fall's season to elope is pretty nice— most tourists have left, and the colors are stunning across the country. The snow is not quite there yet so roads are still open. Although snow may appear from mid-October, the roads are still open.
The most common months to elope in Norway are April through early October. It's definitely possible to elope year-round. Whatever the season that you'll choose for your elopement in Norway, remember that it's first and foremost your day.
Would you like help choosing the best dates for your elopement? Contact me here
Tips to deal with the weather and road closures
If you want to keep an eye on the weather during your stay, I can recommend these two websites/apps for weather forecast:
YR: the data comes mainly from the Norwegian meteorological institute. The forecast is often pretty accurate.
Windy: this app will give you information about rain, temperature, wind, etc. and you can view it on the map.
You also have the timeline which shows you the evolution of the weather over the hours.
If you want to have a quickly view Windy can be helpful but if you want to be sure before planning a hike YR will be more precise.
You can also check regularly for the road conditions here, so you know when the mountains roads close and open.
How to Legally Get Married in Norway
As you plan your elopement in Norway, decide if you'll host your legal ceremony here, or if the country will serve as the location of your symbolic union. If both you and your partner are citizens of Norway, there are just a few simple steps to tie the knot. However, non-citizens need to go through a different process that takes a little extra planning ahead of time.
If You Live in Norway
Citizens of Norway go through the standard procedure to obtain a certificate of no impediment to marriage. The quickest way to do this is to complete forms online through this official site. If you meet the requirements, the Tax Administration will prepare your certificate, which is valid for four months. Send this certificate to your wedding official before your ceremony. The official will send your marriage notification to the Tax Administration after your wedding.
If You Don't Live in Norway
Most of the time, foreign couples not residing in Norway choose to marry legally in their country before traveling to Norway for their elopement. Then, they have a symbolic ceremony in Norway. This considerably reduces legal burdens and lets you just relax and experience the moment. The only difficulty you will encounter is knowing where you will exchange your vows! The possibilities are endless in Norway. Don't forget that my Norway elopement packages include support in the planning of your day.
For more information, see my article Can foreigners get married in Norway?
What to Wear for Your Norway Elopement
Getting married in Norway's great outdoors means hiking or traveling on foot to get to your ceremony spot. As you pick out your wedding day attire, keep three essential factors in mind: mobility, compression and weight. For footwear, choose comfortable hiking boots that will keep your feet happy all day. Once you arrive at your ceremony site you may choose to tuck your hiking shoes into your backpack and switch to a dressier option for photos.
Select a wedding gown that allows you to walk comfortably. Airy and lightweight fabrics or even lace can be the perfect choice for adventurous bohemian brides. Shy away from more voluminous options that might weigh you down and make you feel limited or fatigued as you're walking to your ceremony site. Also, if you're traveling to Norway, don't forget you'll have to find room for your wedding dress in your suitcase.
Follow the same criteria if you are wearing a wedding day suit. A comfortable jacket and pants in natural fabrics of cotton, wool or linen are all great options. The last thing you want is to climb a hiking trail in a scratchy suit.
How to Travel to Norway
The primary way to get to Norway is via plane. Most visitors fly into Oslo Airport located in the country's capital. From Oslo, charter smaller flights to other parts of the country or rent a car to arrive at your destination. Most major cities and towns in Norway have airports for both international and domestic flights. Public transportation including buses, railways and boats are also available. Keep in mind that public transport is limited or not available in more rural areas. United States and Europe citizens do not need a visa to visit Norway unless they are staying for more than 90 days.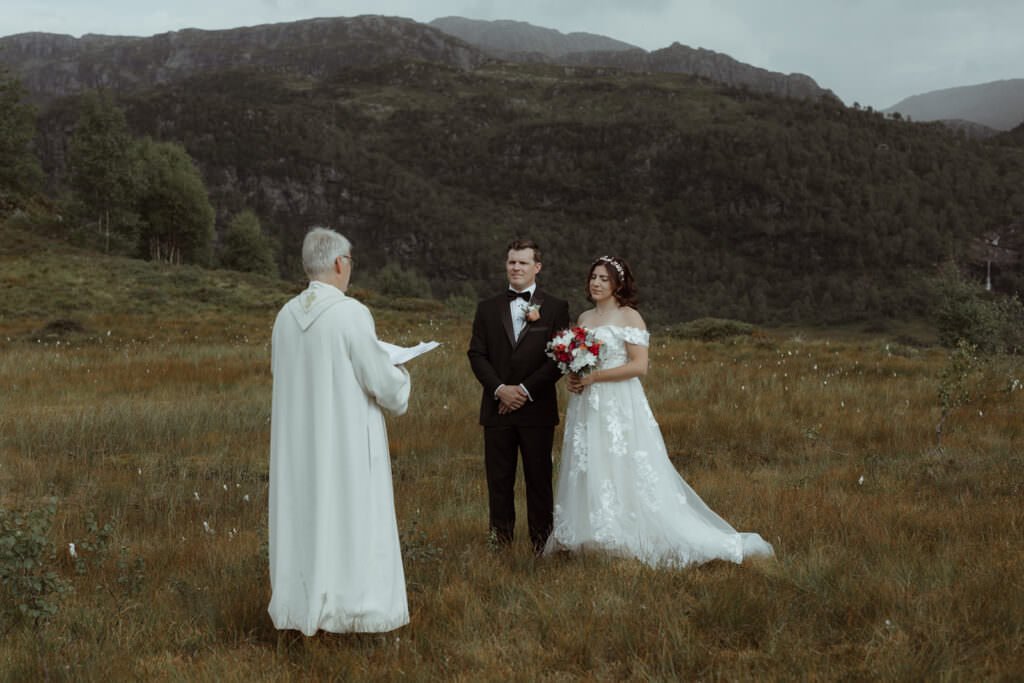 Best Places to Stay for Your Norway Elopement
Feel like you're one with nature at some of the best places to stay in Norway. Whether you want dramatic panoramic views or a cozy mountain cabin, snuggle up at one of these romantic retreats.
Visiting Norway — Culture, Customs, and Things to Know
Before visiting Norway there are a few important things to know about the culture, language, and getting around. If heading to a different country to get married makes you a little nervous, don't worry. One of the many wonderful things about Norway is its citizens are very welcoming and friendly.
Language and Currency in Norway
In Norway the country's national language is Bokmål, and each region speaks its own dialect. But most people in Norway also speak English. While it's sometimes possible to meet elderly or shy people who do not speak English, a vast majority of people understand English very well.
The currency used is the Norwegian krone. Consult a currency converter to find your exchange rate if you're traveling from another country.
Getting Around
Renting a vehicle is often the best way to get around Norway once you arrive, as public transport can be very limited in some areas. Although the roads are well maintained, getting from one location to another can take longer than expected due to the winding roads. Make sure you pack medication if you're prone to motion sickness.
Also, keep in mind that non-tourist hiking trails are not well marked, and the time required to carry them out is often longer than indicated. That's why hiring a photographer familiar with the area is important if your adventurous spirit wants to take you away from the tourist spots. During the winter season, certain roads may be closed. If the roads are open, they are very well maintained by snowplows.
LGBTQ+ Marriage in Norway
LGBTQ+ couples are welcome in Norway. Same-sex marriage became legal in the country in 2009. Known as one of the most LGBTQ+-friendly nations in the world, the citizens of Norway are very supportive of same-sex marriage. If you are searching for a Norway elopement photographer who is LGBTQ+ inclusive, I would be happy to celebrate with you!
Norway Elopement Cost
I estimate the cost of a Norway elopement for 2 people, i.e. 2 nights and 8 hours of photography, is around
132 800 NOK (~ $12 300 USD). However, if you decide to get married out of season and you like simplicity, it can be much lower.  This cost is based on my in-depth article on the cost of eloping in Norway that you can see here, and the estimates below.
Meals and drinks (2 breakfasts, 3 economy meals, 1 gourmet meal, 1 bottle of champagne and 2 bottles of wine): 7 500 NOK
Accommodation: 7 000 NOK
Florist: 3 500 NOK
Make-up & artist-hairdresser: 10 500 NOK
Photographer: 65 000 NOK
Plane + car rental (3 days) + petrol: 30 900 NOK
Road tax (ferry-toll): 1 200 NOK
The cost of a Norway elopement depends a lot on where you're traveling from, what type of experience you want, and if you will choose high season. Contact me for more information and a custom quote.
Norway Elopement Checklist
Once you decide you want to elope in Norway, start working on defining your vision, choosing your photographer and planning your wedding day timeline. Follow this simple step-by-step checklist to plan for your Norway elopement.
Identify your style as a couple and create an inspiration board for your wedding.
Establish your budget.
Look into the legal conditions for getting married in Norway.
Choose the ideal season for your elopement in Norway.
Pick the perfect photographer.
Identify your dream location with the help of your photographer.
Hire an officiant, hair and makeup artist, florist, etc., if needed.
Plan your elopement day timeline.
Sample 8-hour elopement timeline:
12.30 p.m: Getting ready at your Airbnb
2.30 p.m: First look at Airbnb
3.30 p.m: Hike to the ceremony venue
4.30 p.m: Ceremony – reading of your vows
5.30 p.m: Couple portraits at a first place
6.00 p.m: Snack time
7.30 p.m: Couple portraits at another place
8.30 p.m: End of your elopement in Norway
This timeline depends on the season in which you get married. The amount of sunshine throughout the year varies from five hours in the winter and 21 hours in the summer. Keep this in mind as you choose your wedding date. For more details, you can also have a look on my article How to plan an Elopement in Norway here.
Your Norway Elopement Photographer
As a local Norway elopement photographer, I accompany adventurous couples who want a deep connection with nature on their wedding day. It's my passion to incorporate honest and intentional storytelling through every photo, so you can relive your magical day each time you look at your wedding album.
Finding a crowd-free spot for your ceremony is sometimes quite difficult. This is why getting help from a local expert, such as a local photographer in Norway, is always a good option. Choosing a local photographer means you have a wedding professional on your team who is familiar with the area and the right paths to take. The mountains and trails in Norway can be difficult to navigate if you're not familiar with the area. Whether you want a view at the top of a mountain or at the foot of a waterfall, I will be there.
Let's Plan Your Norway Elopement
Are you ready to say your vows in one of the most beautiful countries in the world? Send me a message to start planning your wedding in the heart of nature. I can't wait to capture every moment of your elopement in Norway.